Roofing Promotions
Roof It Right with Seasonal Specials
Seasonal Special: $2000 off
Must be scheduled before March 21st. Discount is $100 per roofing square up to $2,000 for a 20-square roof.  Does not apply to roofs with insurance claims. Call for Details.
 Did you know?  Experts agree that it's actually better to replace your roof in the winter!! Why? Because when roofs are installed during the warmer weather, the asphalt is soft, and roofers damage and scuff the shingles whenever they walk on them. That doesn't happen in cooler temperatures. So save your shingles AND your money this winter.
We keep the shingles in a heated warehouse until ready to be installed. Shingles  are carefully handled so as to not bend them. (Below freezing temperatures or high wind chill factors may postpone installation.) Also please be aware that a roof installed in the winter may have a "wavy" appearance. This is normal and expected. Shingles will lay flatter once the sealant warms up and fully seals with rising temperatures.
Free Roof Inspection & Monitoring
with purchase of Maintenance and
Professional Gutter Cleaning
only $450
Professional Roof Inspection includes detailed report with photos!
Repair Loose Flashing Pieces
Repair Popped Nails
Replace Unsealed Shingles
Secure Loose Vents
Gutter Cleaning
FREE enrollment in Storm Monitoring Service for one year
Runs September through December. Exclusions apply. Call for Details.
Here are the details! Above pricing is for a 1-story home up to 2000 square feet. For a bigger home, call for pricing special. Roof maintenance and repair includes up to 10 pop nails, 10 unsealed shingles and loose flashing. Does not include chimney repair or replace missing or broken shingles. Free enrollment in Storm Monitoring Service is for one year and means that we monitor your area for storms and inspect your roof for free after any major storm event.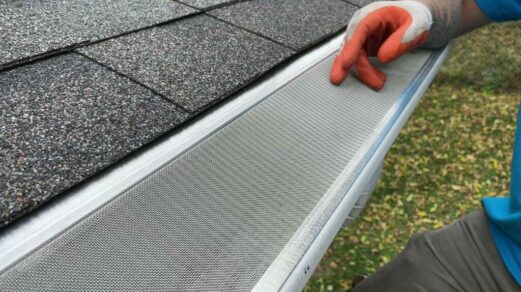 FREE GUTTER CLEANING
with purchase of gutter covers
Maintain It Right will do the dirty work for you and install new gutter covers to top it off.
With your new MicroMax Gutter Guards, this may be your last gutter cleaning ever!!
Limited time only. Not to be combined with any other offer.