Metal Roofing Products
Roof it Right with Metal Roofs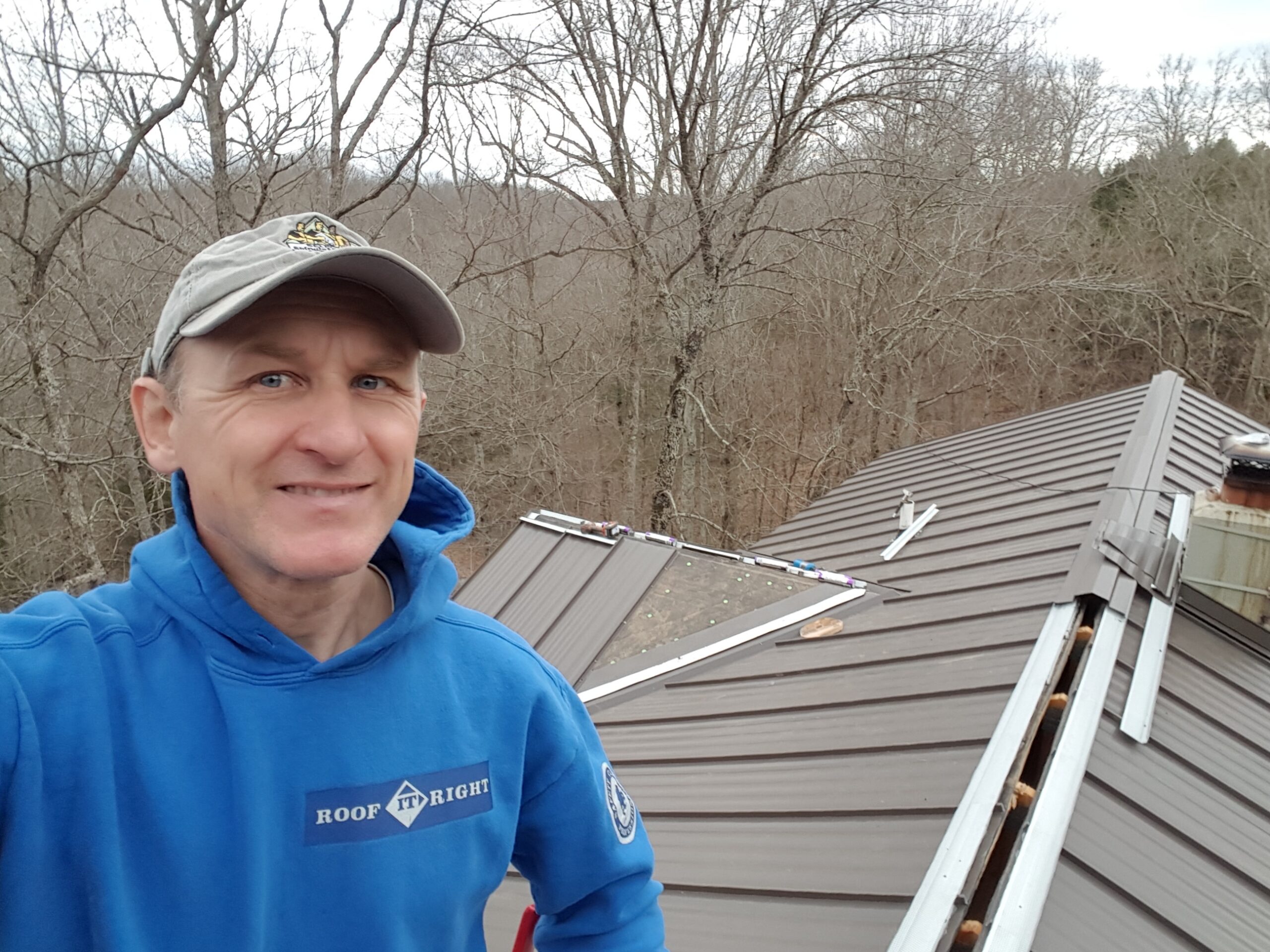 A Metal Roof You Can Count on Starts Here
Are you considering a metal roof?
Metal roofs do a better job of reflecting UV-rays, which is great for the environment AND lowers your energy bills by as much as 20%. They lower attic heat and work well with solar panels. Depending on where you live, your new metal roof may qualify for a Cool Roof Rebate. In fact, the owners of Roof It Right, Sergei & Simone Churbanov, installed a metal roof on their own home in 2021.  He and his family noticed a difference immediately. Home temperature reduced drastically. 
Most metal roofs have a high impact resistance rating and so perform longer than less expensive asphalt shingles. If you are considering a metal roof, it is important to consider both the advantages of metal roofing and some potential drawbacks.*
A good metal roof costs up to 4-5 times more than an asphalt roof. If that doesn't scare you, call us! Sergei or one of our project managers will prepare a rough estimate for your home.
We are proud to offer standing seam metal paneled roofs as well as luxury architectural metal roofs.
Standing Seam Metal Paneled Roofs
Roof It Right only recommends standing seam metal paneled roofs to homeowners. Other options include metal roofs with exposed-fastener panels, but those are very high-maintenance, and we do not recommend them. On metal roofs with fasteners, the neoprene washers around the fasteners wear out, sometimes only two years after installation. In addition, natural expansion and contraction make checking the fasteners a constant job. If you do get a metal roof with fasteners, beware that some installers may overtighten the fasteners, install them at inappropriate angles, or attach them to awkward places, which could also cause problems. However, standing seam metal panels work wonderfully if they are properly installed.
If you are looking at installing a metal roof, choose the gauge or thickness of the panels carefully. Be careful not to fall for flimsy "chip thin" gauge products. The lower the gauge, the thicker the metal, so 29 is thinner than 24. Keep in mind, though, that hail might damage a 29 gauge or even a 26, and it might be hard to get insurance to pay for that because the roof would still be functional. Twenty-four gauge is the golden standard. Have more questions?
A word of caution — Some unreputable roofers may offer to install a metal roof at an incredibly low price. Please be careful. Don't believe every word. Require shop drawings or trim details from the metal manufacturer to be a part of the contract. Over the years, we have seen too many ridiculous components installed by roofers who had been recommended. Don't be blinded by a tempting offer. Remember, the same roof that can be shingled with asphalt shingles by a 4-man crew in a day will take at least a week to install properly with a metal roof. And if you have dormers above the roofline, skylights, chimneys, valleys, or hips, a metal roof replacement could take up to a month. If anyone promises you differently, take another look. At Roof It Right, we get inquiries regularly to replace metal roofs with asphalt shingles. What does that tell you?
Labor and Supply Chain Crises — True metal smiths are becoming harder and harder to find with the labor crisis. They are indeed the "last of the Mohicans." This contributes to the high cost that you pay for quality.
The supply chain crisis since the rise of COVID-19 has doubled metal roof pricing. Delays on materials are huge. If you still want a metal roof, please be patient with your roofer. We installed three metal roofs in 2021. We appreciate our partner, Beacon Roofing Products, here in Louisville, KY. They help us get what we need pretty timely, but we still experience delays. Beacon is a solid roofing supplier in our city. Unfortunately, not all roofers get the same level of support from other suppliers, and delays can be even worse.
Architectural Metal Roofs
Architectural metal roofing imitates either wood shake, slate, or Spanish tiles.
Aesthetically pleasing, duplicating the traditional look of slate, Spanish tile, or shake
High fire-resistance rated
Rated high wind resistance
High impact resistance rated
Extremely durable
100% recyclable ♻
See more metal shingle options from our supplier.
Potential Drawbacks of a Metal Roof
Expense. Expect to pay at least 3 to 4 times more for a quality metal roof than for an asphalt roof. In addition, due to the complicated detail involved in its installation, add about $1,000 per feature, such as skylights, on your roof. The price of installation is also highly dependent on the number of gables, hips and ridges, and valleys.
Oil Canning. There is also the risk of oil canning appearing after installation or sometime later. Oil canning is visual imperfections that give the roof a look of waviness or distortion. Possible contributing factors can be the production of the panels, the quality of the roof deck that it is installed over, the roofing system, installation, and thickness of the metal panels. Again, there are methods and ways to lower the risk. However, there is no 100% method to guarantee that oil canning will not occur, as it is the nature of metal to try to revert to its original form.
Beware of low-quality workmanship. It isn't enough to be able to say, "I have a metal roof." The quality of your metal roof is directly related to the quality of the workmanship. Each manufacturer has written details on how it should be done, and the installation can be quite detailed, particularly the installation of flashing around complicated areas. We recommend that you ask whatever roofing contractor you use to provide you with shop drawings detailing the installation around walls, skylights, hips and ridges, chimneys, and eaves. Be sure to have them include the shop drawings in the contract.
Please note: Since COVID-19, suppliers have been experiencing delays in metal sheet production.
Despite the few potential drawbacks, metal roofing is a great option and definitely worth the investment. We would love to talk to you about it!
More Roof It Right Videos About Metal Roofing