Chimney Repair and Restoration
Roof it Right with Chimney Services 
More Than a Roof… Chimneys, Too
Chimneys are one of the most complex components of a roofing system. Usually, problems occur in one of three different areas of the chimney: The flashing at the chimney base, the masonry, or at and around the chimney cap. Another factor contributing to leaks around the chimney is poorly installed vinyl siding.
Whether your roof is leaking at the chimney or not, you should regularly inspect and maintain a masonry chimney because a deteriorating chimney could be a safety hazard. For example, a big stone or brick could fall out and cause bodily harm or even death.
Inspections
Leak Repair
Repointing (Masonry Repair)
Chimney Cap Installation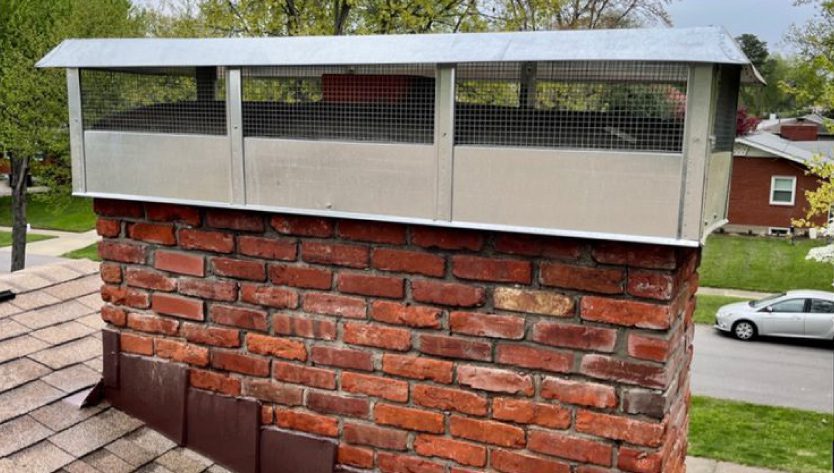 When you schedule a chimney inspection with Roof It Right,

the professional inspector will pay particular attention to the following:
Flashing
Chimney flashing usually consists of 2 components, base and counter flashing.
Base flashing, as it sounds, is sheet metal installed at the base of the chimney that connects the walls of a chimney with the roof. Base flashing can be very problematic if the workmanship is sloppy. To install base flashing properly, whoever is installing it must use common sense and know how water is likely to run, or it could be an easy source of leaks. Unfortunately, leaks created by poorly installed base flashing are very common.
Counter flashing serves as a cap over the base flashing. We often encounter loose counter flashing that is not attached to the chimney wall or sealed correctly. Fortunately, penetrations and leaks in counter flashing are easy to spot and fix as counter flashing is visible. To fix it, it must be inserted into cut grooves in the mortar and then sealed with quality roofing cement or sealant.
Masonry
If your chimney is a masonry chimney, leaks can develop through tiny cracks in the mortar or bricks. Water will conduct through the brick or stone and run behind the flashing.
In that case, your chimney will need to be repointed. Repointing is removing old mortar as needed and reapplying mortar evenly between the bricks, effectively stopping the leak while giving your chimney a fresh appearance.
Vinyl Siding
Contrary to popular belief, vinyl siding is not 100 percent waterproof. It is watershed material. It is common for water to run behind the siding at the corner connections of the home's walls or connections with the chimney. A common water entry point is around the j channels, trim installed at the bottom of vinyl siding panels at gable ends.
Water seeping behind the siding may not be a problem if a water and moisture barrier is installed underneath it, overlapping with the base flashing. However, that is not common practice with most contractors. Most homes do not have a water barrier installed behind the siding.
Water and moisture barrier is important because leaks can occur not only when there is wind-driven rain but also when light showers or just natural condensation occurs.
It's not uncommon for people to call roofers to inspect leaks and for the roofers to have trouble locating the source. The issue is not with the flashing in this instance but related to cracks in the chimney wall or the lack of moisture barrier.
Chimney Cap
At Roof It Right, we love a good chimney cap. Chimney caps reduce moisture, keep animals out, block downdrafts, prevent flues from getting blocked with debris, and stop sparks from lighting your roof on fire. However, the chimney cap should be securely installed. There are many types of chimney caps, and a professional needs to make sure that they will stay in place even in high winds. If not secure, water can penetrate around the base and leak into the chimney or roof.
More than just roofing, we are dedicated to safety and quality.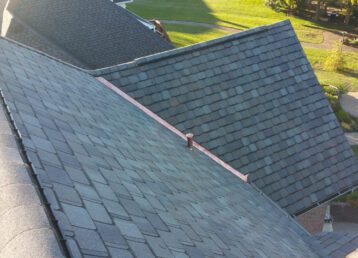 Roof Replacement
We specialize in roof replacement, new installation, & damage repair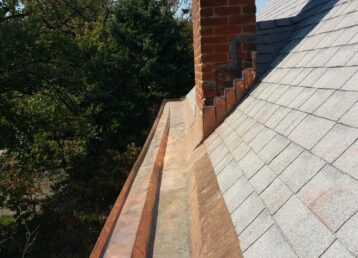 Gutters
Gutter cleanouts, gutter installation, gutter repair & gutter replacement, we do it all.
Chimneys & Caps
Gutter cleanouts, gutter installation, gutter repair & gutter replacement, we do it all.
We Are Local – A Roofing Company in Louisville Kentucky
Get in touch with us today and schedule your home improvement inspection.
10611 Watterson Center Ct
Suite 200
Louisville, KY 40299
24 Hour Call Center Service By Appointment