Flat Roofs
Roof it Right with Flat Roofing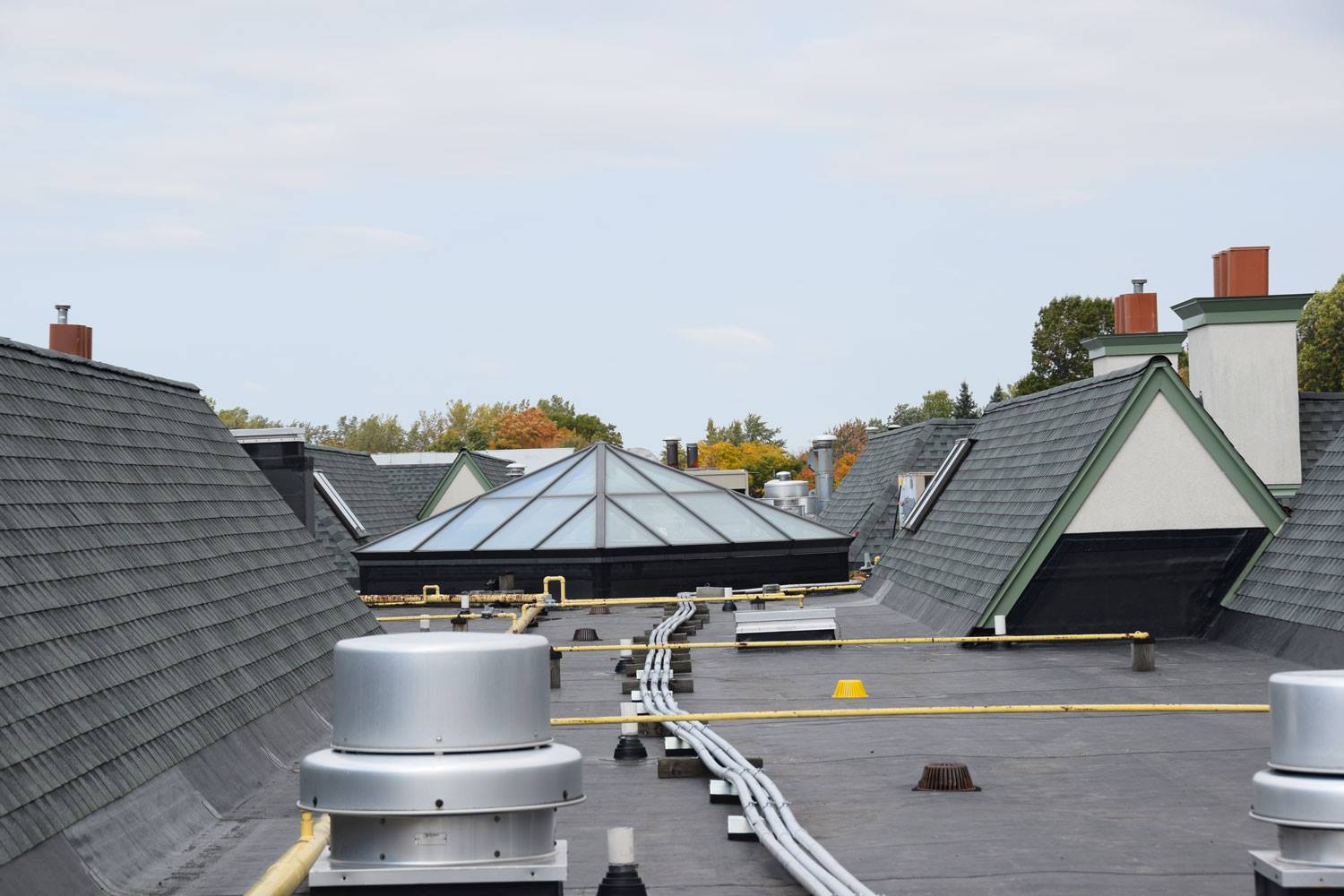 Flat Roofs That You Can Count On
When it comes to roofing, flat roofs are a horse of a different color.
Since they aren't the norm in residential roofing, some roofers find them challenging.
At Roof It Right, we are experts at installing and repairing flat roofs. If you have a "flat roof", here are some things that you need to know.
A flat roof is not actually "flat". There must be some minimum slope to allow water to drain off. Any section of a roof that has an incline of fewer than 10 degrees is a so-called flat roof.
And any roof with a slope of under 2/12 must be installed with roller, or membrane, roofing. Asphalt shingles are not permitted. See the chart below.
| wdt_ID | Roof Slope? | Asphalt Shingle | Alternative |
| --- | --- | --- | --- |
| 1 | 1/12 | Shingles Can Not Be Used | Use membrane roofing (TPO, PVC, EPDM, or modified bitumen) |
| 2 | 2/12 | Shingles may be used, but not recommended | Use membrane roofing (TPO, PVC, EPDM, or modified bitumen) |
| 3 | 3/12 and 4/12 | Shingles can be used | Use membrane roofing (TPO, PVC, EPDM, or modified bitumen) or shingles |
| 4 | 5/12 | Shingles are recommended | Use Shingles |
If you have a flat roof, make sure that your roofer . . .
Correctly secures the edges—We commonly see examples of wind blowing off roofing material because the edges were not properly secured.
Correctly installs the change slope — As mentioned, flat roofs require a bit of pitch to be functional. This includes flashing installation and buildup for adequate drainage. If not, you will have water standing on your roof which will eventually cause a leak.
Correctly installs the connections between the roof and the wall surface — This area is vulnerable to premature damage from expansion and contraction and susceptible to leaks if not done properly.
Can provide written specifications detailing the installation of areas around any features like chimneys or dormers.
Features like skylights, chimneys, or dormers require special adjustments to the installation. Let your roofer provide you with a drawing of the specifications they intend to use.
Membrane Roofing for Flat Roofs
Membrane roofing comes in rolls that are cut and rolled out flat and secured to the roofing surface. Each type has its advantages and disadvantages. At Roof It Right, we are experienced in the following:
Modified Bitumen
TPO
PVC
EPDM
Modified Bitumen
Bitumen is another word for asphalt. So modified bitumen is multi-ply asphalt that has been "modified" or changed by rubberizing it. It has the same granular finish as shingles– a perfect choice to match the shingled portions of your roof.
We recommend modified bitumen for open roof areas with no valleys or other roof features in the way. However, if there is anything in the way that might prevent water flow, water might sit on the membrane too long and easily deteriorate the seams. For that reason, it is not super reliable. If there are a lot of features on your roof, we would probably recommend that you go with TPO, PVC, or EPDM.
Modified bitumen is. . .
Highly durable
Matches the shingle look
Can be complicated to install
TPO
If you've seen the bright white roofs on commercial buildings, you've probably seen TPO. TPO stands for thermoplastic polyolefin (It's okay, just say "TPO"). It is a single-ply membrane made up of 2 layers of thermoplastic polyolefin with a polyester-reinforced fabric center in the middle.
TPO products can vary greatly in quality. Make sure that your contractor uses a proven product. We use a high-quality TPO for the following advantages:
Heat/UV resistant: Particularly white TPO. It naturally reflects the sun.
Lowers cooling costs during the summer: The reflectiveness makes your home easier to cool and may qualify for "cool roof" enerystar.gov rebates.
Environmentally safer: TPO doesn't contain chlorine like PVC or other roofing products.
100% Recyclable: TPO can be recycled for a second life.
Heat weldable: The seams between the rolls are welded together with a hot air gun and thus are very strong.
Highly flexible: Its flexibility makes it resistant to tears, punctures, and damage from building expansion and contraction.
Less expensive than PVC (not including labor)
TPO usually comes in white. A few other colors, like tan and gray, may be available by special order and a significant cost increase. It may also be possible to paint the visible portion of your TPO roof the color of your choice.
EPDM
EPDM is a synthetic rubber whose full name is ethylene propylene diene monomer (say that again fast!). Its system is similar to modified bitumen and can be installed in one of three ways:
Fully adhered to the layer underneath
Mechanically attached
Weighed down with river rock or pavers (ballasted)
For best results, we recommend the full adhesion system. A buffer, such as Polyiso boards (also known as ISO boards) or high-density Polyiso boards should be used. ISO boards are ridged insulation boards made out of closed cell foam.
EPDM, like all roofs, will require maintenance, as the seam adhesive will deteriorate over the years.
EPDM's advantages:
Heat/UV resistant
Tear-resistant
Resistant to both heat and cold
Full adhesive system eliminates the moisture trap problem
Less expensive than TPO or PVC.
EPDM comes in black and white. Black will absorb heat more, while white will reflect.
PVC
PVC is polyvinyl chloride, or as you may call it, plastic. It's extremely strong and durable and may be the right choice for some projects.
PVC Advantages:
Resistant to UV and fire
Highly resistant to chemical damage
Reflective—lower cooling costs, also considered a "cool roof"
Heat weldable
Easier to repair as it can be re-welded in sections
Lasts up to 30 years
Sturdier seams than EPDM
PVC is easy to get in white. If you are willing to wait for a special order and pay the significant cost increase, it's also possible to get PVC in a variety of colors.
Have questions about what flat roof solution is best for your home or business?
Let the flat roof experts at Roof It Right guide you!
More About Roofs
A successful project starts with a strong understanding of your materials and how to properly use them.  Learn about the various services we provide and what is best for your home.