Roof Installation & Replacement
Roof it Right with the Right Process
More Than a Roof – A Roofing SYSTEM
You want to maintain your home and replace the roof when it's needed, but how do you know when it needs to be replaced or when a small repair is all that it needs? Our trained roof inspectors will perform a full roof inspection and help you make informed decisions on your roof maintenance or replacement.
Roof Replacement: How do I get a roof that  I can count on?
High Standards
The most critical decision you will make regarding your roof replacement is choosing a quality roofing contractor.
A conscientious roofing contractor like Roof It Right will adhere to certain standards that are often overlooked in the roofing industry.
Consider just three crucial areas that you'll be glad that Roof It Right does not compromise on.
3 Key Elements in Roof Replacement
Ice and Water Shield: The Ice Dam Problem
For many years roofers in Kentucky didn't bother installing a product called ice and water shield around the perimeters and eaves.
But experience has taught us that skimping on that extra layer of underlayment protection in vulnerable areas is not in the best interests of the homeowner. In two recent instances here in Louisville, KY, an insurance company denied installation of ice and water shield. The very next year, the insurance company had to pay to install those same roofs a second time. The cause was ice and water damage around the perimeters. This could have been avoided by following code the first time and installing ice and water barrier.
At Roof It Right, we install ice and water shield in vulnerable areas such as around the perimeters and in the valleys and eaves because we put the customer first. We also work hard to maintain our reputation as roofers who do it right. While our full customer service policy means we always answer the phone when one of our customers has a leak, we'd much prefer that you don't have a leak! For that reason, we do it right the first time.
Flashing
Over the years, Kentucky roofers have fallen into the practice of reusing existing flashing and other existing components for new roof replacements. This was mostly due to the tendency of insurance companies to deny payment for the replacement of flashing if it was not directly damaged by wind or hail.
The trouble with reusing metal flashing is that once you remove it in order to install the shingles, it is no longer in good shape. The very act of removing it causes ripples and dents in the flashing that are impossible to remove. The old flashing is also full of old nail holes. Lining up the new nail holes with the old ones is an impossible feat!
The job of flashing is to divert water away from vulnerable areas such of wall intersections, chimneys, and skylights. Reused flashing cannot do its job and must be replaced per manufacturer's requirements.
At Roof It Right, our policy is to always replace such components in a roof replacement so that your new roof really is a new roofing system and not just new shingles.
Roof Deck Preparation
A roof is only as good as the roof deck.
THE ROOF DECK IS THE WOODEN BOARDS THAT MAKE UP THE BASE OF YOUR ROOF. THESE BOARDS ARE WHAT YOUR SHINGLES AND OTHER ROOFING COMPONENTS ARE ATTACHED TO.
The boards or sheeting that make up your supporting roof deck should be in good condition, not soft, broken or rotted. There should not be any gaps exceeding .25" between them. Remember the surface needs to be nailable. If large gaps exist, there will be areas where the nails have nothing to nail into. And soft materials like shingles cannot protect your roof on its own.
Some roofers install "new roofs" without ever checking the quality of the substrate. They may simply "reshingle" the roof. However, the value of a new roof installed over a bad roof deck is close to $0. Therefore Roof It Right will always remove the existing shingles and existing felt and underlayments before any reshingling to check the quality of the roof deck.
Before your project begins, we will check the wood spacing from the inside of your attic. However, there is no way to know for sure how much wood, if any, will need to be replaced until we strip the old shingles and underlayment off. We are sure that you will agree that it's worth the extra time and effort to make sure that your project is done right!
More than just roofing, we are dedicated to safety and quality.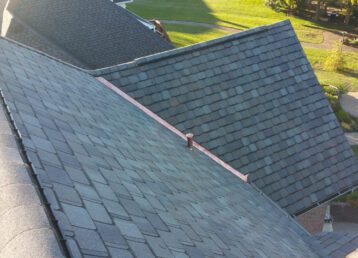 Roof Replacement
We specialize in roof replacement, new installation, & damage repair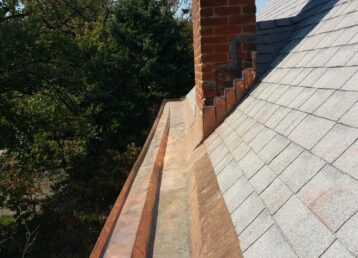 Gutters
Gutter cleanouts, gutter installation, gutter repair & gutter replacement, we do it all.
Chimneys & Caps
Gutter cleanouts, gutter installation, gutter repair & gutter replacement, we do it all.
We Are Local – A Roofing Company in Louisville Kentucky
Get in touch with us today and schedule your home improvement inspection.
10611 Watterson Center Ct
Suite 200
Louisville, KY 40299
24 Hour Call Center Service By Appointment