Gutter Services
Gutter Installation, Repair, Replacement, and Cleaning
More Than  a Roof Over Your Head, Gutters & Covers, Too
Get the Right Gutters for your Home
Gutters and gutter covers are essential for your home and protect your investment.
Gutters installed by builders or gutter-only companies may or may not be the right size for your home, and they may or may not successfully divert water away from vulnerable areas. Since the specialists at Roof It Right are experienced roofers, we know to consider these things.
Gutter Repair Restoration Services 
The Right Gutters and Gutter Covers Protect Your Home From
gutter algae
mosquitos
foundation cracks
rotted fascia
roof and gutter leaks
soil erosion
moss growth
Sign up now to get half off of gutter screens with a full gutter replacement!
The Right Size
The size of gutters you need depends on the size of your roof. They should be able to handle whatever amount of water typically flows off that roof size. For example, if you have 5-inch gutters installed, but you need 6-inch gutters, water will overrun the gutters and pour out the sides, defeating the purpose of having the gutters.
Most builders automatically install 5-inch gutters on new builds, even if it's a half-million-dollar home with a large square footage roof. If you have a new home, it's almost a certainty that you have 5-inch gutters. The point is to try to save the new owner a little bit of money. In the long run, it doesn't save any money if it's simply the wrong size; it just leads to problems down the line.
Get what's right for your home and what's correct for your investment. Call Roof It Right, and we will be glad to do an inspection and honestly evaluate what's suitable for your home.
Protect Vulnerable Areas
Gutters collect water that gets trapped on your roof and distribute it away from your home to prevent erosion or water damage. But if gutters are not installed in such a way as to divert water away from vulnerable areas, leaks and problems will develop.
A prime example is missing downspouts. A downspout from a gable to the edge of the roof may not be aesthetically pleasing, but the alternative is water shooting directly against the shingles. Sooner or later, the water-shedding ability of those shingles will wear down, and water will seep in.
Another common gutter issue is improper slope installation. If the angle of the gutters doesn't have enough slope towards the downspouts, water will settle close to the house and end up in your basement! And water that leaks seemingly safely into the dirt can crack your concrete.
Vulnerable places in the gutters themselves are the seams of gutter connections, especially at the corners (miters). Double-check that these areas are properly sealed and are not leaking.
The bottom line is to make sure that your gutters drain properly, handle the volume of water, and divert water safely away from your home and vulnerable areas.
Even if you don't hire us, we recommend that a reliable roofing contractor, not a gutter-only service company, be the one to take care of your gutters. A roofing company cares about leaks and vulnerable areas. They will be more likely to install gutters correctly, especially if they also installed your roof. They don't want to come back later to address leaks on the roof they just installed.
Gutter Covers and Gutter Screens
We can't have a conversation about gutters without bringing up gutter protection. There are many types of gutter protection on the market, including helmets, guards, meshes, screens, and brushes.
While we recommend mesh guards, it's safe to say that any kind of gutter protection is better than nothing. Some system must be in place to keep out asphalt granules, leaves, and other debris. Your gutters only work when they are clutter-free.
Ultraviolet light from the sun deteriorates asphalt, and your shingles will shed a lot of particles over the years, especially during installation and during hail or wind storms. Don't neglect gutter protection! Your roof is counting on you.
Have more questions about gutters or gutter protection? Call us now and book an inspection or phone consultation.
More than just roofing, we are dedicated to safety and quality.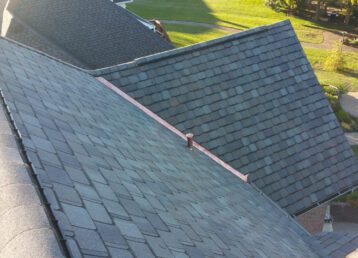 Roof Replacement
We specialize in roof replacement, new installation, & damage repair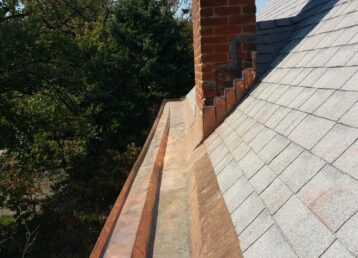 Gutters
Gutter cleanouts, gutter installation, gutter repair & gutter replacement, we do it all.
Chimneys & Caps
Gutter cleanouts, gutter installation, gutter repair & gutter replacement, we do it all.
We Are Local – A Roofing Company in Louisville Kentucky
Get in touch with us today and schedule your home improvement inspection.
10611 Watterson Center Ct
Suite 200
Louisville, KY 40299
24 Hour Call Center Service By Appointment