Louisville's Leading Quality Roofing Company
Roof It Right is Louisville's leading roofing company. We specialize in all aspects of roofing, from repairs and replacements to new construction. We are committed to providing our customers with the best possible experience, from the initial consultation to the final inspection.
Choose Roof It Right to replace or repair your roof, expect the following:
A clear, accurate, and fair estimate that details all aspects of the project.
Professional and courteous service from our team at every stage of the job.
Timely completion of the project according to your schedule and specifications.
Our guarantee of the quality of labor and materials used in every roof installation or repair.
A metal roofing system that meets or exceeds industry standards and safety codes.
Full collaboration with you throughout each stage of the project to ensure your vision is realized.
A warranty that covers your investment and gives you peace of mind.
Why a Higher Quality Roof is Essential In Louisville?
Louisville is prone to severe weather conditions, such as thunderstorms, hailstorms, and strong winds, unpredictable climate, all of which can damage roofs. A higher quality roof is essential as it will be more resistant and protect you from these elements and will last longer.
Additionally, a higher quality roof can provide a number of other benefits, such as:
Improved energy efficiency
Reduced noise pollution
Increased curb appeal
Enhanced safety and protection
Increased property value: A high-quality roof can increase the value of your home.
In short, a higher quality roof is essential in Louisville because it can save you money in the long run and protect your home and family from the elements.
Understanding Roofing Needs in Louisville
As mentioned above Louisville's climate and weather patterns present unique challenges to homeowners.
Harsh winters with freezing temperatures and heavy snowfall can cause ice dams and water infiltration.
Summers bring high humidity and intense heat, which can lead to roof deterioration and increased energy consumption.
Identifying Common Roofing Issues
Louisville homeowners often face common roofing issues, such as leaks, missing shingles, and damaged flashing.
The city's rapid temperature changes can cause roof materials to expand and contract, leading to cracks and leaks.
Regular maintenance and timely repairs are crucial to prolong the lifespan of your roof in Louisville.
Introducing Roof It Right
Roof It Right is an established roofing company with a rich history and a sterling reputation in the industry.
The company is known for its commitment to customer satisfaction and delivering quality workmanship.
Years of experience have earned Roof It Right the trust of Louisville homeowners and property managers. https://youtu.be/gVtSnxsxtTY
Roof It Right's Range of Services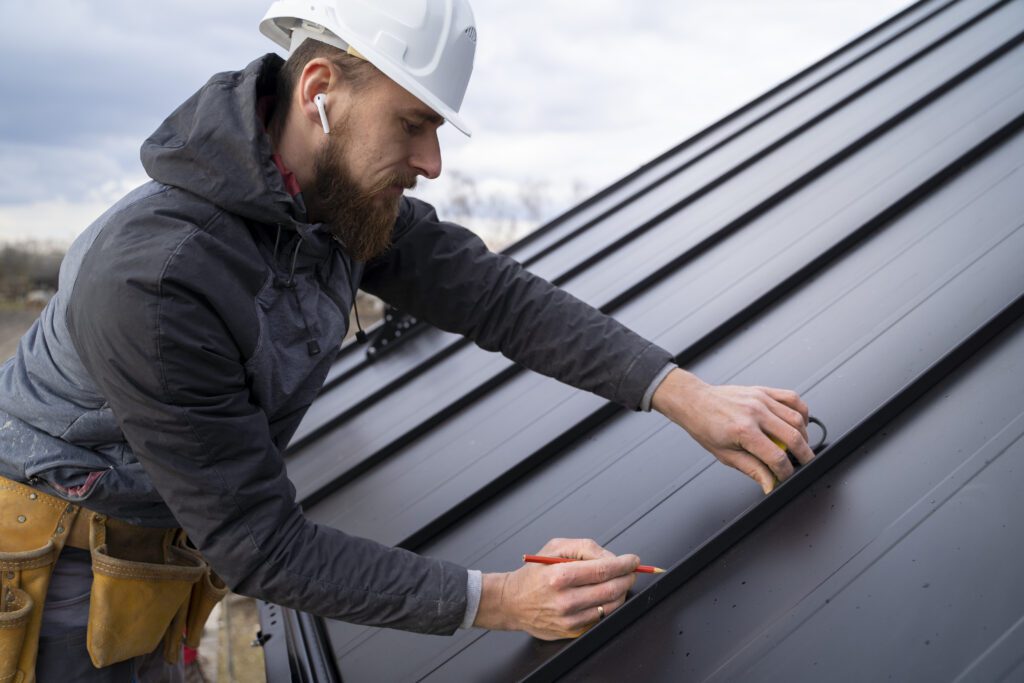 Roof inspections and assessments
Experienced technicians conduct comprehensive roof inspections to identify any underlying issues.
Detailed assessments provide homeowners with an accurate understanding of their roof's condition.
Roof repairs and maintenance
Roof It Right offers expert repair services to address any leaks, damaged shingles, or flashing issues.
Regular maintenance plans are available to keep your roof in optimal condition.
Roof replacements and installations
Whether it's time for a new roof or you need a roof installed for a new construction project, Roof It Right has the expertise to deliver exceptional results.
The company uses high-quality materials and industry-leading techniques to ensure a long-lasting roof.
The Roofing Process with Roof It Right
Initial consultation and assessment
A representative from Roof It Right will meet with you to discuss your roofing needs and assess the current condition of your roof.
Detailed cost estimation and proposal
After the assessment, Roof It Right will provide you with a detailed cost estimation and proposal, outlining the scope of work and materials required.
Professional project planning and scheduling
Once you approve the proposal, Roof It Right will work with you to develop a project plan, taking into account your specific timeline and requirements.
Execution of roofing services with experienced technicians
Highly skilled technicians will execute the roofing services according to the project plan, ensuring exceptional workmanship and attention to detail.
Thorough cleanup and final inspection
Once the project is completed, Roof It Right will conduct a thorough cleanup of the work area.
A final inspection will be performed to ensure that the roof meets the highest standards of quality and craftsmanship.
Unparalleled Expertise and Workmanship
The skilled roofing team at Roof It Right undergoes continuous training and stays updated on the latest industry developments.
We are committed to using high-quality materials and industry-leading techniques to ensure long-lasting and durable roofs.
Roof It Right's Customer-Centric Approach
Roof It Right places customer satisfaction at the forefront, prioritizing clear communication and exceptional service.
Testimonials and success stories from satisfied customers are a testament to the company's commitment to excellence.
Ensuring Safety and Compliance
Roof It Right prioritizes safety, adhering to all industry regulations and safety measures.
Hiring a licensed and insured roofing contractor like Roof It Right ensures peace of mind and protects you from liability.
Roofing Solutions for Residential Properties
Roof It Right specializes in providing top-notch roofing solutions for residential properties in Louisville.
Various residential roofing options are offered, including asphalt shingles, metal roofing, and architectural shingles.
The experienced team at Roof It Right can recommend suitable roofing materials based on your property's needs and aesthetic preferences.
Commercial Roofing Solutions
Roof It Right offers specialized roofing services for commercial properties, including installations, repairs, and maintenance.
Roofing solutions for commercial properties are tailored to address the unique needs of businesses and industrial buildings.
Energy-Efficient Roofing Options
Roof It Right is dedicated to providing eco-friendly roofing solutions that enhance energy efficiency.
Sustainable roofing materials, such as solar panels and cool roofs, can significantly reduce energy consumption and lower utility costs.
Roof It Right's Maintenance Program
The Roof It Right maintenance program is designed to extend the lifespan of roofs and prevent future problems.
Regular inspections, cleaning, and maintenance tasks are performed to keep your roof in optimal condition.
Emergency Roofing Services
Roof It Right understands the urgency of roofing emergencies and provides prompt response and assistance.
A 24/7 helpline is available for emergency repairs, ensuring that your roof is quickly restored to protect your property.
Project Gallery: Roof It Right's Successful Roofing Projects in Louisville
Roof It Right proudly showcases a portfolio of completed roofing projects to demonstrate its expertise and build trust with potential clients.
The gallery highlights various roofing styles and materials, showcasing the company's ability to deliver outstanding results.
Frequently Asked Questions (FAQs)
How long does a roof installation usually take?
The duration of a roof installation depends on the size, complexity, and weather conditions. Roof It Right provides an estimated timeline during the initial consultation.
Will Roof It Right help with filing insurance claims for roof repairs?
Yes, Roof It Right can assist you with filing insurance claims for roof repairs, ensuring a smooth process.
Does Roof It Right provide warranties for their roofing services?
Yes, Roof It Right provides warranties that cover both labor and materials used in their roofing services.
Is Roof It Right licensed and insured?
Yes, Roof It Right is a licensed and insured roofing contractor, that meets all legal requirements.
Can Roof It Right recommend suitable roofing materials for my property?
Absolutely, Roof It Right as a leading roofing company has extensive experience and can offer expert recommendations tailored to your property's needs and style.
How often should I schedule roof maintenance?
Basically a regular roof maintenance is recommended at least once a year as a matter of fact after severe weather events you should schedule for a roof inspection. Roof It Right can provide a maintenance schedule acording on your roof's condition.
What signs indicate the need for a roof replacement?
Signs such as leaks, and damaged or missing shingles, excessive granule loss, and sagging indicate the need for a roof replacement. Roof It Right can assess your roof's condition and recommend the best course of action.
Is Roof It Right available for roofing emergencies during weekends and holidays?
Yes, Roof It Right understands that emergencies can happen at any time, and they provide emergency roofing services during weekends and holidays.
Choosing a reliable roofing service like Roof It Right is crucial for the protection and longevity of your property in Louisville.
With a commitment to quality, customer satisfaction, and expert craftsmanship, Roof It Right is the trusted choice for all your roofing needs.
If you are looking for a Louisville roofing company that is committed to quality, service, and craftsmanship, then Roof It Right is the right choice for you. Contact us today to learn more about our services or to schedule a free consultation.