Hurricane Season Roof Prep: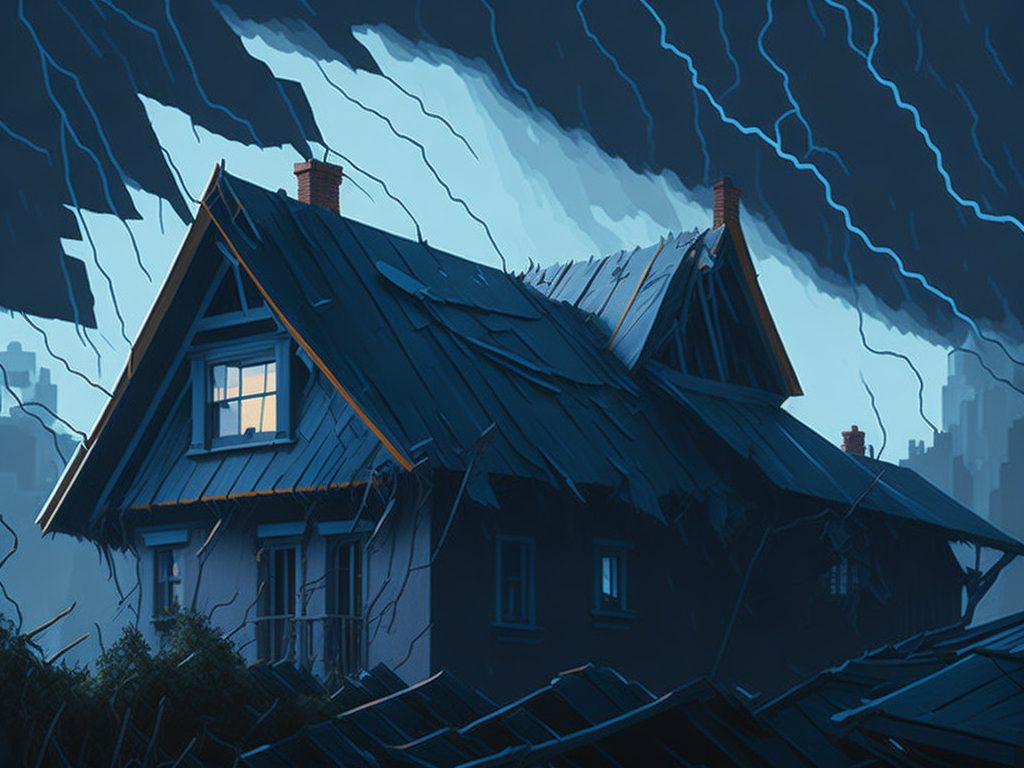 Protecting Your Home from the Storm
In the face of the destructive force of hurricanes, it is crucial to prepare your roof adequately. Neglecting this vital step could leave your home vulnerable to extensive damage caused by these powerful storms. To understand the urgency, let's delve into some staggering statistics on the havoc wreaked upon roofs during hurricanes.
Understanding the Impact of Hurricanes on Roofs
Hurricanes possess the capacity to unleash severe damage upon roofs, with devastating consequences for homeowners. These tempestuous storms generate fierce winds, often exceeding 100 miles per hour, which can tear off roof coverings, shatter windows, and compromise the structural integrity of a building.
During hurricanes, common vulnerabilities in roofs become apparent, accentuating the urgent need for preparation. Such vulnerabilities include loose or missing roof tiles, deteriorated flashing, weak connections between the roof and walls, and aging materials that crumble under the immense pressure of hurricane-force winds.
Assessing the Current Roof Condition
Conducting a thorough inspection of your roof prior to the onset of hurricane season is of utmost importance. By examining its current condition, you can identify signs of wear and tear or damage that might make it more susceptible to the destructive forces of a hurricane.
To ensure the integrity of your roof examination, consider enlisting the help of professionals. In Louisville, KY, Roof It Right has established itself as the premier roofing contractor, renowned for meticulous inspections and trusted advice. Don't hesitate to reach out to them for an expert evaluation.
Reinforcing Your Roofing Structure
Strengthening your roof's structure is an essential preemptive measure to enhance its resilience against impending hurricanes. Addressing weak points and reinforcing vulnerable areas can make a significant difference in safeguarding your home from the storm's wrath.
Repair any weakened spots promptly and fortify them with the use of high-quality materials. By prioritizing these adjustments, you'll significantly minimize the risk of severe damage to your roof during hurricane season.
Securing Roof Coverings
The installation and maintenance of roof coverings play a crucial role in protecting your home from hurricane damage. Invest in proper installation techniques that adhere to industry standards, ensuring a secure and reliable roof covering.
When selecting roofing materials, opt for those proven to be hurricane-resistant. The experts at Roof It Right can provide you with valid and trusted advice on the most suitable materials for your specific needs, allowing you to make an informed decision.
Clearing Gutters and Drainage Systems
The significance of keeping your gutters and drainage systems clean and functional cannot be overstated. Clearing debris and ensuring the unrestricted flow of water away from your roof is vital in preventing water buildup and potential leaks, which can exacerbate damage during a hurricane.
Stay proactive in maintaining your gutters and drainage systems throughout the year and pay extra attention as hurricane season approaches. By doing so, you'll protect your roof from unnecessary strain and mitigate the risk of water intrusion.
Trimming Overhanging Branches and Trees
Overhanging branches and trees pose considerable risks to your roof during hurricanes. As swirling winds whip through, these branches and trees can collide with your home, causing severe damage.
To avoid this potential disaster, practice proper trimming techniques that keep these natural hazards at a safe distance. By regularly maintaining your trees and branches, you'll minimize the chances of roof destruction during hurricane season.
Sealing Roof Openings and Gaps
Identifying and sealing any gaps, cracks, or openings on your roof is integral to fortifying it against the elements. These vulnerable areas are prime entry points for water intrusion and wind-driven rain, which can inflict substantial damage on your home.
Take the time to inspect your roof carefully, paying attention to even the smallest gaps. Through meticulous sealing, you can effectively safeguard your home and prevent avoidable water damage during hurricanes.
Reinforcing Roof-to-Wall Connections
Ensuring the robust connection between your roof and walls is paramount to withstanding hurricane-force winds. By employing hurricane straps and clips during the installation process, you can fortify the bond between these essential components.
Proper installation techniques by skilled professionals, such as those at Roof It Right in Louisville, KY, will provide enhanced stability during the onslaught of hurricanes, minimizing the risk of catastrophic damage.
Installing Roof Wind Vents
Undoubtedly, roof vents play a crucial role in reducing the wind pressure exerted on your roof during hurricanes. By facilitating proper airflow and equalizing pressure, they alleviate the strain on your roof's structure.
There are various types of roof vents available, and their installation requirements differ accordingly. Consult with Roof It Right for their expertise in determining the most suitable venting option for your specific roof design and hurricane vulnerability.
Maintaining Proper Attic Ventilation
The significance of proper attic ventilation cannot be overstated, particularly during hurricanes. By ensuring adequate airflow in your attic, you create a balanced environment that mitigates the risk of roof damage.
Proper ventilation prevents the buildup of moisture, which can weaken the structural integrity of your roof. By prioritizing attic ventilation, you enhance the overall resilience of your home against hurricane-related damage.
Inspecting and Securing Flashings
Flashings act as a protective barrier, shielding vulnerable areas of your roof from water intrusion. To maintain this vital defense mechanism, regular inspection and maintenance are crucial.
Regularly examine flashings for signs of deterioration or damage and promptly address any issues. By proactively maintaining and replacing flashings when necessary, you can prevent leaks and reinforce the overall integrity of your roof.
Reinforcing Chimneys, Skylights, and Other Protrusions
Chimneys and skylights, among other roof protrusions, are particularly susceptible to damage during hurricanes. Reinforcing these vulnerable areas is crucial in protecting your home against the destructive forces of high winds and heavy rain.
Consider the installation of protective measures specifically designed for chimneys, skylights, and other protrusions. These additions will bolster their structural integrity and prevent potential weaknesses from turning into costly repairs.
Protecting Solar Panels and Other Rooftop Installations
If your home is equipped with solar panels or other rooftop installations, it is essential to take measures to secure them adequately. Failing to do so can result in severe damage during hurricanes, incurring significant expenses.
Implementing robust mounting systems specifically designed for hurricane-prone areas will ensure the stability of your solar panels and other installations. By investing in these protective measures, you safeguard your investments and reduce the risk of extensive damage.
Creating a Roof Emergency Kit
In readiness for the aftermath of a hurricane, assembling a roof emergency kit is a prudent measure. This kit should include essential items such as tarps, roof sealant, hammers, safety goggles, gloves, and other tools necessary for immediate post-storm actions.
By being adequately equipped, you can address urgent roof repairs promptly and prevent further damage to your home. Remember, preparation is key to swift recovery.
Evacuation Planning and Safety Measures
Amid severe hurricanes, evacuation plans become critical for ensuring personal safety and safeguarding the lives of others. Familiarize yourself with designated evacuation routes and establish a comprehensive plan to protect yourself and your loved ones.
Follow all safety measures recommended by local authorities and evacuate promptly when necessary. Remember, your roof can be repaired, but your safety is irreplaceable.
Post-Hurricane Roof Inspection and Repair
In the aftermath of a hurricane, it is imperative to undertake a thorough inspection to assess roof damage. Engaging reliable professionals for inspections and repairs is key to determining the extent of the damage and restoring your roof to its former strength.
Choose competent and trustworthy roofing contractors experienced in post-hurricane assessments. Relying on their expertise will ensure accurate evaluations and efficient repairs, putting you on the path to full recovery.
Insurance Considerations and Claims Process
Understanding your insurance coverage for hurricane-related roof damage is essential in navigating the claims process effectively. Familiarize yourself with the intricacies of your policy, including deductibles, coverage limits, and claim procedures.
Should you require assistance with your insurance claim, reputable roofing contractors like Roof It Right can provide guidance to help you maximize the benefit of your insurance coverage. Their expertise in dealing with insurance companies is invaluable in the pursuit of a fair and timely claims process.
Frequently Asked Questions (FAQs)
How do I prepare my roof for hurricane season?
Assess the current condition of your roof and reinforce its structure, secure roof coverings, clear gutters, trim overhanging branches, seal gaps, reinforce connections, install roof wind vents, maintain proper attic ventilation, inspect and secure flashings, reinforce protrusions, protect solar panels, and creating a roof emergency kit.
Can my insurance cover hurricane–related roof damage?
Insurance policies vary, but many do cover roof damage caused by hurricanes. Familiarize yourself with your policy's specifics to determine the extent of your coverage.
How do I choose a reliable professional for roof inspections and repairs?
Look for well-established and reputable roofing contractors with a track record of excellence and satisfied customers. Seek recommendations and reviews, and ensure their expertise aligns with the unique requirements of hurricane prep and repairs.
In conclusion as hurricane season approaches, proactive roof preparation emerges as an indispensable defense to safeguard your home. By following these comprehensive tips and recommendations, you can fortify your roof against the fury of hurricanes and protect your most cherished asset – your home. Be vigilant, take action, and ensure the safety of your loved ones and the longevity of your abode.