Roofing Basics
Know and Understand Your Roof
It's important to us at Roof It Right, that you know and understand exactly what you are getting when you get a roof repair or replacement. We are the #EducationRoofer! If you have any roofing-related questions, reach out to us and let us know how we can help!
Basic Roofing Terminology: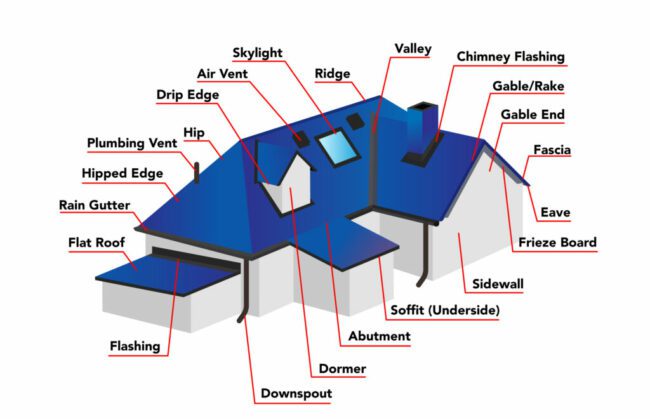 Skylight
A window installed in a roof or ceiling. Flashing, thin sheets of water-resistant material, is installed around the skylight to divert water away from the opening.
Ridge
The horizontal line where two roof slopes meet at the top. It is sometimes referred to as the peak. Hip and ridge shingles are specifically designed for this part of a roof.
Valley
The V-shaped intersection between two roof slopes.
Chimney Flashing
Thin sheets of water-resistant material that diverts water away from the chimney and onto the shingles. Chimneys generally require base flashing and a counter flashing. See below for more information on flashing.
Gable
The usually triangle-shaped section of a wall formed when two roof slopes intersect at the top.
Rake
The edges of the roof slopes that form a gable.
Gable end
The entire wall that includes a gable.
Fascia
The long straight boards that run along the front of the overhang. Fascia boards support the gutters.
Eave
The lower horizontal edge of the roof that usually overhangs the exterior wall.
Sidewall
A wall on the side of a structure.
Slope
Another name for a roof plane.
It is also the term used to describe how steep the incline is. It is expressed by the number of inches of up per 12 inches across. A roof slope can be anywhere from 2/12 to 10/12. The higher the first number of the ratio, the steeper it is.
Soffit
The finishing material that covers the underside of your roof's overhang.
Abutment
A junction of pitched roof surface with a wall or similar structural feature. Commonly seen in roof and building extensions.
Dormer
A projection, generally with a window, that extends out from sloped roof.
Downspout
The vertical gutter/pipe that allows water from a gutter to reach the ground without dripping or splashing your home.
Flashing
Material, usually thin sheets of metal, that divert water from roof components. They are installed at wall intersections and around roof projections and features, such as vents, skylights, and chimneys.
Frieze board
A board at the top of the house's finished wall, forming a corner with the soffit.
Flat roof
A roof with a very low incline, that may appear flat.
Rain gutter
The trough along the roof's edges that catches water from the roof and diverts it away from the building.
Hipped Edge
The roof slope created by two hips.
Hip
The intersection of the sides of two roof slopes, forming a ridge from the peak to the eave. A hip is the opposite of a valley, which angles inward. Hip and ridge shingles are specifically designed for this part of a roof.
Drip Edge
Metal flashing that extends past the edges of the roof to keep water from curling back around the shingles. If your roof doesn't have drip edge, water gets behind your gutters and rots out both your fascia board and roof decking.
Plumbing Vent
A pipe connected to your plumbing system that helps regulate air pressure and removes gas and odors.
Ventilation Vents or Fans:
Exhaust vents allow warm humid air to exit and properly ventilate your attic.
Anatomy of a Roofing System:
A roof is much more than shingles, it's an entire system. Take a moment to understand all the components that go into your roofing system with this diagram. You'll be able to confidently discuss your roofing needs with your contractor and/or insurance company.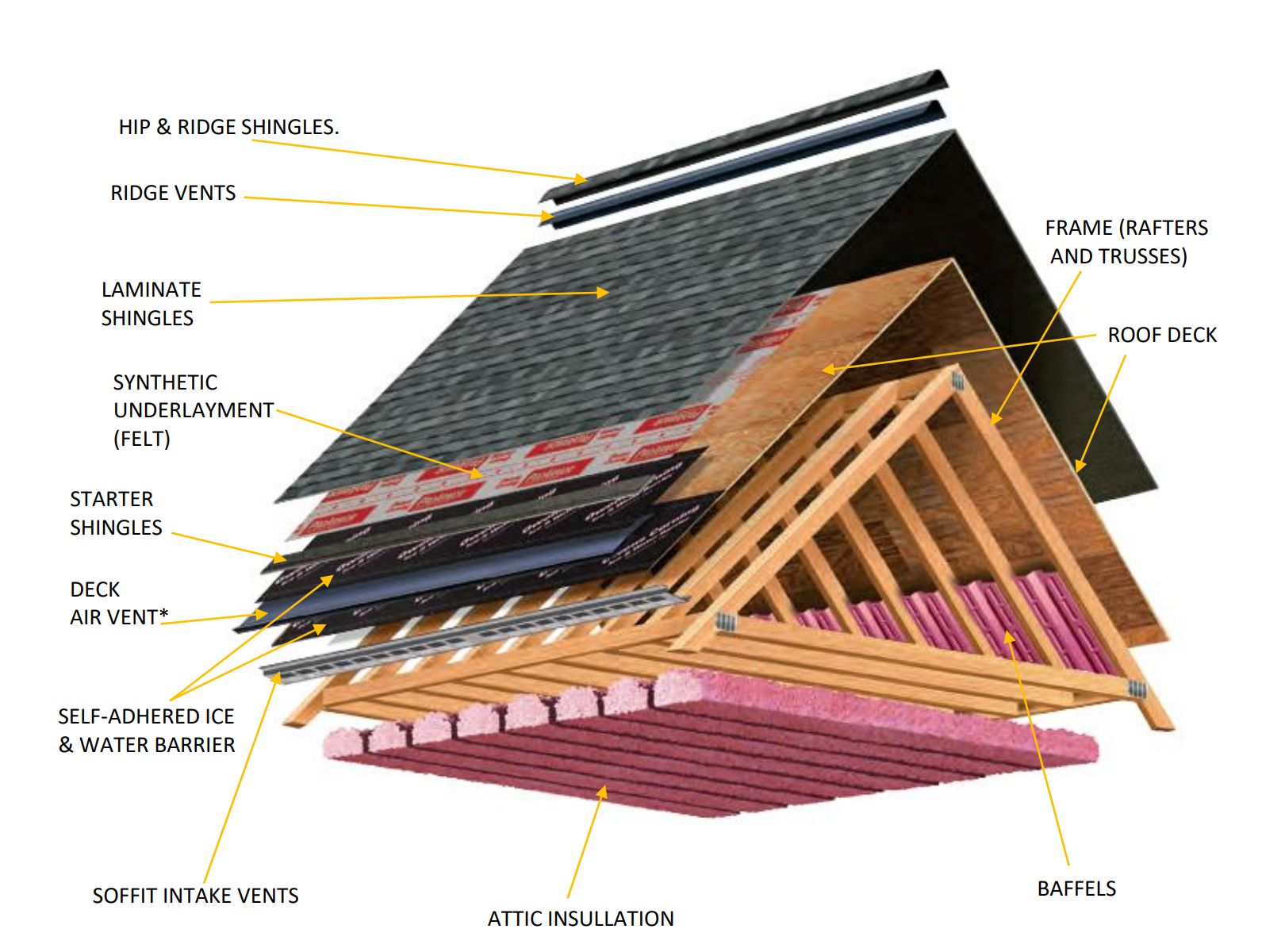 Hip and ridge shingles: Specialized shingles that are designed to easily bend over a ridge or hip.
Ridge Vent: An exhaust vent that runs horizontally along the peak of the roof allowing warm, humid air to escape from the attic.
Laminate shingles: Also known as laminated architectural, architectural, or dimensional shingles. They are a type of asphalt shingle with a heavier base mate and multiple layers with a 3-dimensional appearance. In contrast, regular asphalt shingles, also known as "3-tab" shingles, are flat, with only one shingle tab shape and size.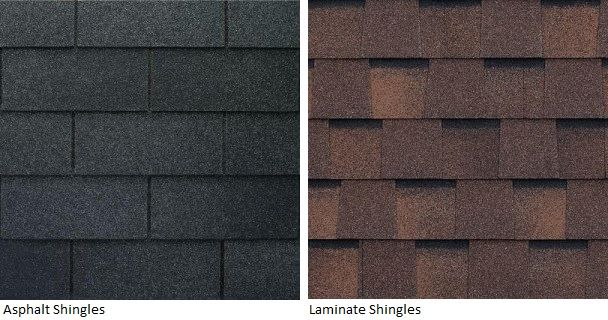 Frame: Wooden structure that the roof deck or sheathing is attached to.
Roof Deck: The sheathing material that is nailed to the frame and to which shingles and other roofing materials are attached.
Synthetic Underlayment: Also known as felt, a water-shedding barrier that goes between the roof deck and the shingles.
Starter Shingles: Specialized shingles that are designed for use along the eave and rake edges. They protect against wind and water infiltration.
Deck air vent: If your home doesn't have soffit intake vent or adequate ventilation, deck air vents can be installed at the bottom of your roof as an alternative.
Self-adhered ice and water barrier: A waterproof second-line of defense against moisture in vulnerable areas. We recommend ice and water barrier installation along the eaves and in valleys to prevent damage from ice dams.
Soffit intake vents: Intake vents located under the eaves of the roof that draw cool dry air into the attic.
Attic Insulation: Proper insulation in your attic reduces heat transfer and helps prevent ice dams. Excessive heat transfer and ice dams can both damage your shingles.
Baffels: (Rafter vents) Chutes that provide a way for air to flow from the exterior soffit vents up to your attic. They are important protectors against condensation, water damage, and mold.
Drip edge (not shown): Metal flashing that helps water drip off your roof and away from your house.
Flashing (not shown): thin sheets of water-resistant material that are installed in vulnerable areas of the roof.
Types of Flashing
The purpose of flashing is to divert water from vulnerable areas. Examples of areas that require flashing are roof intersections with walls, around openings in the roof and around features, such as vents, skylights, and chimneys. Galvanized steel is most commonly used, but it can be made out of many types of metal or other material. There are a variety of flashing types that your roof will require. Some are mentioned below.
Continuous flashing
A long, single piece of metal that diverts water down to the shingles below. Also called apron flashing, it is generally installed ….. Long pieces have built-in expansion joints so they can better withstand natural contraction and expansion.
Base flashing
Chimneys and other features may require two pieces of flashing. The base flashing (or apron flashing) is the bottom L-shaped piece. One end goes under the shingles and the other end of the "L" flushes against the chimney or wall. Counter flashing is the second piece that is attached to the chimney and acts like a "cap"over the base flashing.
Counter flashing
Counter flashing is used to "cap" the top of base flashing. In fact, counter flashing is also called cap flashing. It is then secured directly into the masonry or with a sealant or both.
Step Flashing
Step flashing is a rectangular piece of flashing bent at 90 degrees in the center. It is used for roof to wall flashing. Multiple pieces of the flashing are installed in layers with shingles to ensure the water flows away from the wall.
Skylight flashing
It is important to use the correct flashing around your skylights. Most sunlight manufacturers include skylight flashing with their products. It is also common for roofers to fabricate their own flashing.
Metal Drip Edge
All the edges of your roof– the eaves and rakes– should have metal drip edge installed to keep water from curling around the shingles and back into your house.
Pipe Jack
A pipe jack, also called a pipe boot, is a type of pre-fabricated flashing designed to go around plumbing vents.
Valley flashing
A valley can be "open", meaning that metal flashing is installed in the valley. Or it can be "closed" and shingled. If the valley is closed and covered with asphalt shingles, it should absolutely have ice and water barrier installed underneath before shingling.
Kickout flashing
Kickout flashing bridges the gap between step flashing and the gutter. It directs water away from the wall and into the gutter.
Our friends at Roofing Insights explain some roofing terms in this video.